Professionally, this year has been full of wonderful experiences and thrilling opportunities. I traveled to SXSW, San Diego Comic-Con, Toronto, London, and the Australian coast. I interviewed some of my personal heroes, and reviewed movies that shook me to my core.
Below are the pieces I'm the most proud of producing:
Reviews:
Always Shine: "There are plenty of horror movies about women in danger. But few capture the unique danger of being a woman as distinctly and sharply as Sophia Takal's Always Shine."
A Monster Calls: "Much like Inside Out made the case for the value of sadness, A Monster Calls does the same for anger. And we need it. In this day and age, anger is too often written off as the enemy of joy or a useless, self-indulgent emotion."
The Edge of Seventeen: "in the tradition of teen classics like Clueless, Mean Girls, and Juno comes The Edge of Seventeen, a brilliant coming-of-age comedy with anger issues."
Green Room: "You know that feeling when someone grabs you by the shirt, right at your breastbone, and twists. They've made a handle. They've got you. You feel unnerved by the lack of control you now possess. Now, imagine them twisting the shirt tighter and tighter. Its creases catch your skin and pinch. Your chest tightens. Your breath halts in fear. You are helpless in your fate. This is the sensation of watching Green Room."
Hardcore Henry: "Maybe Hardcore Henry is an affront to cinema as we know it, but that doesn't make it a bad movie."
Hell or High Water: "Mackenzie masterfully embeds us into the lives of his anti-heroes, while weaving a story of moral complexity and chilling compromise. It's so rich in detail and atmosphere, you'll marvel that an English auteur spun such a stirring story about good ol' boys in the new Old West."
The Lure: "One moment it feels like you've wandered into a vibrant '60s musical like The Umbrellas of Cherbourg. The next, we've tripped down a dark alley into a Cronenberg nightmare of blood, flesh and fury. Then we surface into a club, slick with slime, sex, and god knows what else, where two strange sisters spin and shriek in a glam-punk seduction that'd have made David Bowie smile."
Nina Forever: "The Blaines' brand of gallows humor blisters in their banter, but is positively brilliant in Nina's sick and subversive physical gags. She's half wet dream and half nightmare. Her breathy voice sultry yet sinister, coming not from a desire to seduce, but from punctured lungs and a throat filled with windshield glass."
Swiss Army Man: "Deliciously deranged and brazenly bizarre, Swiss Army Man sets itself apart as an ardent love letter to weirdos, telling us that the world may not always get you, but there are always those that will. And if that's a message that makes your weird little heart skip a beat, than this crass and crazy comedy is for you."
White Girl: "Visually, Leah is a sweet young thing running hard at growing up. From the start, she is ruthlessly reckless, obliquely envisioning herself as invincible. While consequences do crash down, she sidesteps most with a flirtatious smile or riotous tears, communicating the film's infuriating message with a shuddering clarity."
Interviews:
Chuck Palahniuk on Fight Club 2 and his legacy
Ben Wheatley on High Rise and the problem with film criticism in the internet age
Jackson Publick and Doc Hammer on David Bowie's legacy
Joseph Gilgun on Preacher and his unusual plan B
Elijah Wood on film criticism
Dan Stevens, interviewed in a hotel shower
Keegan-Michael Key on comedy and representation
Colin Farrell and Ezra Miller on Fantastic Beasts' potential gay subtext
Charlie Brooker On Black Mirror's happiest ending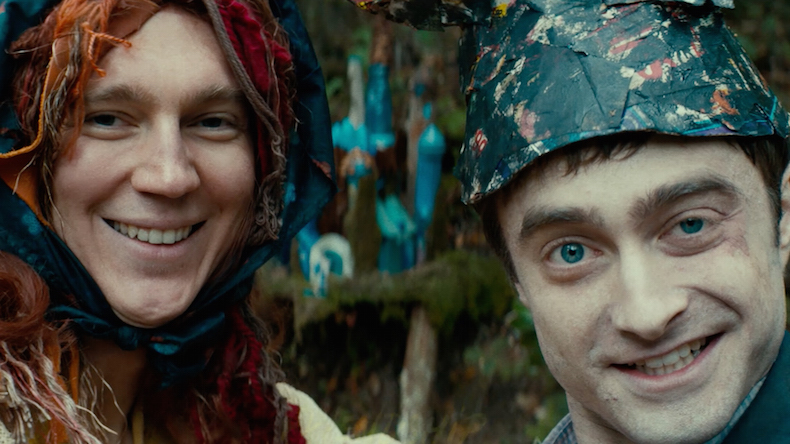 Editorials:

Why Daniel Radcliffe Deserves an Oscar For 'Swiss Army Man': "Sure, Leo ate raw bison liver for his art, but Radcliffe performs with a prosthetic boner that doubled as a compass!"
Are We Finally at the Precipice of the Whitewashing Tipping Point?: "It's a drop here and a drop there of people claiming it's not their problem, not their fault, and then we get a flood of movies about white people, many mediocre, that tear through theaters racing toward that big gold finish line of Oscar night. It's not a mystery how this happens."
Hate Watching the Nightmare Inducing 'Ink Master': "There are flashes of men yelling and yowling, shoving each other as they bellow 'bro' and 'dude.' Then I dream that I wake up, and my arms are covered in strange symbols, muddy colors and crass characters. My skin feels raw. My heart stings with remorse, and I can feel my throat rattle as if I'm screaming."
Words Matter
: "Trolls employ hard horrible words to intimidate others into silence, because they know words matter. They know their words make people feel angry, or small, or alone. They get a reaction, whether it be retweeting with criticism, lashing out, or retreating from Twitter. Trolls fear words changing the world in a way that scares them, and so they fight back with ugly words that inspire fear, stir outrage, and strive for silence."